Many custom jewelry jobs have to be done in phases using our extensive knowledge and expertise to create the best designs with the available gemstones.
On February 27th we wrote a blog about a client who brought in her mother's ring and wanted to create updated jewelry pieces that could be worn on a daily basis. This project was done in three phases as there was much thought and planning necessary to use all the components of the ring to create new jewelry that fit my client's lifestyle.
After taking the gigantic ring apart we had some amazing gems to work with, including three 8.5 mm round Akoya cultured pearls, eight 0.25 carat round brilliant diamonds, and a large amount of gold to help fund the project. The first piece created was a beautiful two tone ring using four diamonds with three white gold X adornments. The second project was a pair of dangle earrings using two pears and two diamonds.
This led to the final phase of the custom work. Our client wanted a necklace that could be worn incorporating blue beads, her round diamonds, and the last pearl. The client researched the project and came to us with ideas, which she refined with Marsha the Master Jeweler. Marsha created a design, which the client approved and we started collecting the parts necessary to complete the project. We started our search for blue beads and found a company from India that specializes in hand cut gemstone beads of all sorts. This company had gorgeous sapphire rondelles which we absolutely fell in love with. Finding such high quality beads inspired us to order the beads for this project as well as many different beads for future projects. We will talk about this in future blogs.
Marsha handmade the bezels for the two remaining round brilliant diamonds and the floral inspired cap for the 8.5 mm pearl. The client picked a gorgeous Italian made chain for the main body of the necklace. Marsha having a passion and expertise for stringing and assembling beads lent itself perfectly to this project. Taking all the parts, Marsha created the most wonderful necklace.
My client was so happy to be able to use all of the parts of her mother's heirloom ring for three magnificent pieces of jewelry she will be able to wear on a regular basis. We were proud to be a part of this project.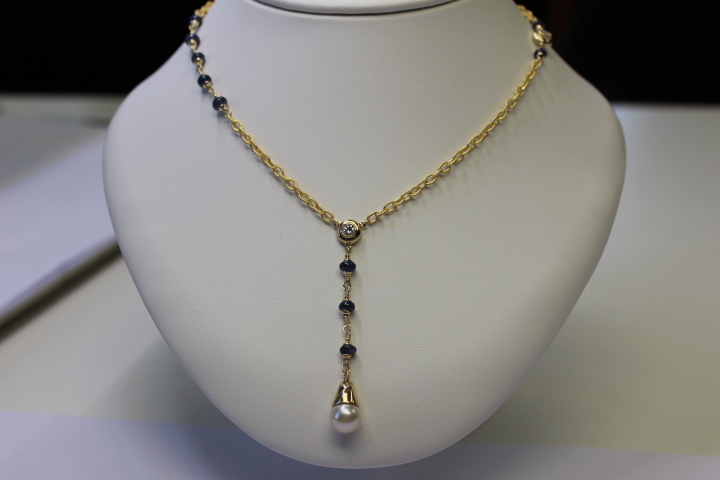 We invite you to see us for your own custom projects at Richard Dolgin Private Jeweler in Overland Park, Kansas.