We are specialists in making unique coin jewelry and have had the opportunity to create some astounding pieces.
Recently a professional artist friend and client told me about his favorite ancient coin, the AR Tetradrachm. The tetradrachm was an Ancient Greek silver coin in circulation from 510 to 38 BC. This ancient coin was stamped on one side with the head of Athena and on the reverse an image of the owl Glaucus was stamped. This solid silver coin is larger in diameter than a quarter. It also weighs about 17 grams, almost four times the weight of a quarter.
I started on a quest more than year ago, to find this special coin as, because its history fascinated me. Franklin Roosevelt is said to have carried this coin in his pocket because Athena is the goddess of wisdom and war. Being president during war times, this coin had special meaning for his daily thoughts.
I searched many different avenues to find this coin, calling friends that were coin dealers and searching the internet, to find a reliable source to ensure its authenticity. I learned during my research that this is one of the most counterfeited ancient coins, so I knew I had to be careful in choosing my source. I found an auction house that came highly recommended and bought two tetradrachms. I gave my client the choice of the coins and we both decided we should have them authenticated by the best numismatic guaranty and picked the Numismatic Guaranty Corporation (NGC). Both coins checked out to be absolutely authentic and were in incredibly good condition. The tetradrachms were returned in a sealed container, with verification of the authenticity of these 2400 year old coins.
After proudly analyzing the new purchase, my client decided he wanted a ring to showcase his coin. Marsha the Master Jeweler, started a design to complement the coin and protect it in the mounting. We wanted to keep the design simple, making the coin the main emphasis of the ring.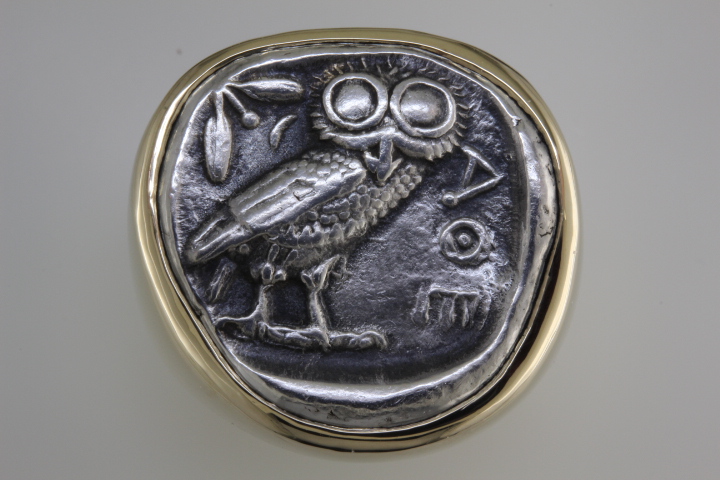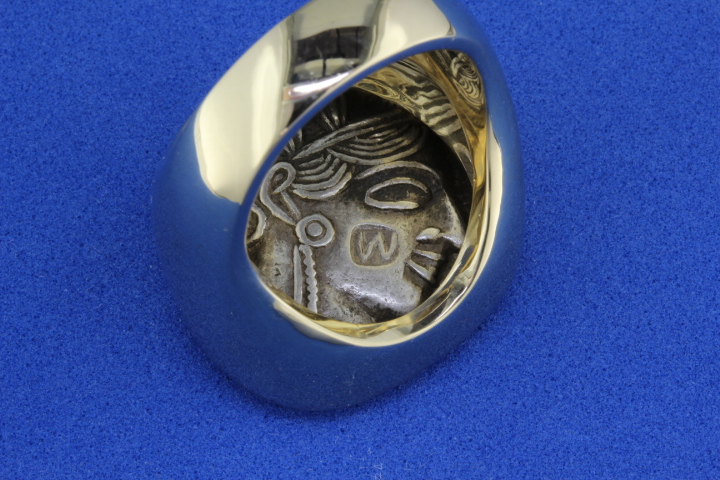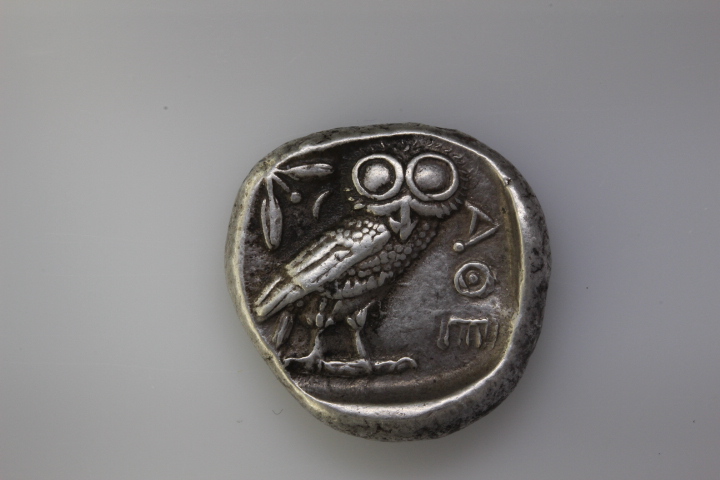 This was truly one of my favorite projects I have done at Richard Dolgin Private Jeweler. Working with a talented artist really inspires our creativity. I am really proud to have been a part of this project.